Today is Valentine's day and I want to share my deepest love for the Baha'i prisoners in Iran who are punished because of love taught by their Baha'i Faith and punished by their government of Islamic Republic of Iran so they are not able to practice love. It reminds me of the song; What's love got to do with it? The answer in their case is: Everything! Love is the real reason for the uprising of the youth in Egypt and around the world, democracy only a small part of it.
Baha'is of Iran have a most inhumane punishment for the most basic expression of humanity towards their fellow citizens. We may call it the chocolate crime. They are severely punished for "Teaching" their faith. Those who have spend time in jail and have endured the worst tell you what Islamic Republic means by the expression of "teaching their faith"! I assure you, love has got everything to do with it.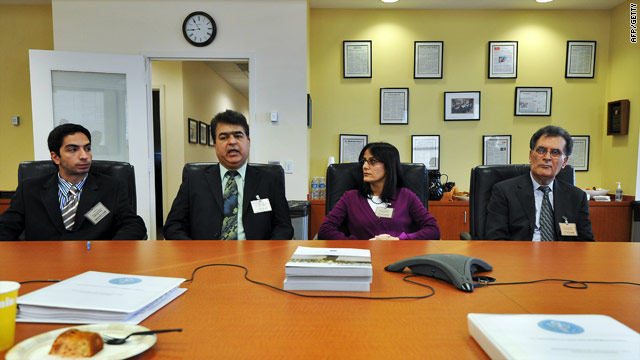 Sina Sabet Sarvestani, Iraj Kamalabadi, Azadeh Rohanian Perry and Kamal Khanjani (from L-R), realatives of Baha i prisoners in Iran, tell their stories before The US Commission on International Religious Freedom.
Apparently the Islamic Republic is frightened by the power of love and humanity of the Baha'i community and is using all its might and cruelty to suppress it.
CNN reports
about the sad account of a few family members whose loved ones are wasting away in the dark pits of Islamic republic Regime of Iran all because of their expression of humanity and power that goes with it. Scarry, ah!!!
Please read the article and do write a comment on it and share with your face book friends and be the voice they do not have.
"The Blessed Beauty saith: 'Ye are all the fruits of one tree, the leaves of one branch.' Thus hath He likened this world of being to a single tree, and all its peoples to the leaves thereof, and the blossoms and fruits. It is needful for the bough to blossom, and leaf and fruit to flourish, and upon the interconnection of all parts of the world-tree, dependeth the flourishing of leaf and blossom, and the sweetness of the fruit.
For this reason must all human beings powerfully sustain one another and seek for everlasting life; and for this reason must the lovers of God in this contingent world become the mercies and the blessings sent forth by that clement King of the seen and unseen realms. Let them purify their sight and behold all humankind as leaves and blossoms and fruits of the tree of being. Let them at all times concern themselves with doing a kindly thing for one of their fellows, offering to someone love, consideration, thoughtful help. Let them see no one as their enemy, or as wishing them ill, but think of all humankind as their friends; regarding the alien as an intimate, the stranger as a companion, staying free of prejudice, drawing no lines.
In this day, the one favoured at the Threshold of the Lord is he who handeth round the cup of faithfulness; who bestoweth, even upon his enemies, the jewel of bounty, and lendeth, even to his fallen oppressor, a helping hand; it is he who will, even to the fiercest of his foes, be a loving friend. These are the Teachings of the Blessed Beauty, these the counsels of the Most Great Name."
Keyvan